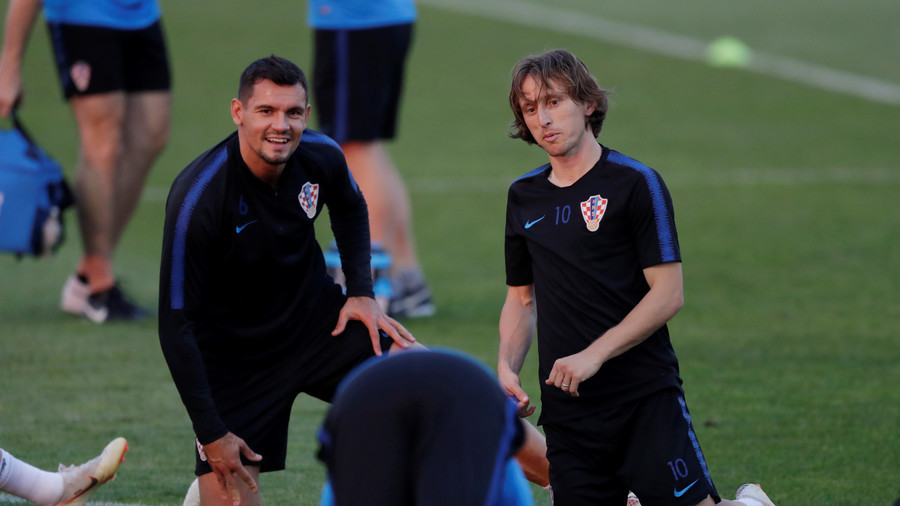 "Still, I do not think that FIFA's reaction to Vida's statement was sufficient".
The video shows Croatia defender Domagoj Vida shouting "glory to Ukraine" before the retired ex-player Ognjen Vukojevic adds "this win is for Dynamo and Ukraine. go Croatia".
"HNS hereby apologises to the Russian public for the actions of a member of the Croatian delegation", it said.
"The Croatian Football Federation hereby informs the public that by the decision of the leadership of the Federation, Ognjen Vukojević has been relieved of his duties as a team member and will no longer be a member of the delegation at the World Cup in Russia".
Croatia play England in the semi-final on Wednesday.
In a video footage, which was recorded after the match in the locker rooms of the Croatian team and later circulated on social networks, Vida said "Glory to Ukraine", while Vukojevic added that he dedicated that victory over Russian Federation to people in Ukraine.
Croatia have sacked their assistant coach just days before they face England in the World Cup semi-finals.
More news: Julius Randle reportedly signs two-year, $18 million deal with Pelicans
Check out the brand new daily JOE World Cup Minipod hosted by Dion Fanning and Paddy McKenna.
.
Vida was a star of Croatia's win on penalties over Russian Federation on Saturday, scoring a header in extra time and converting a penalty in the shootout.
In the video, posted on Facebook by Ukrainian journalist Andrey Shakhov, Vida said: "Glory to Ukraine".
"The Croatian Football Federation (HNS) has chose to revoke Vukojevic's team accreditation at the FIFA World Cup and to relieve him of his duties as an observer for the Croatian national team, " Croatia Football Federation said according to the Independent UK. Football is outside politics. "It's a joke for my friends from Dynamo Kiev", he was quoted as saying.
"Our intention was not to offend anyone". He joined Dynamo Kiev, where he spent seven years as a player, as a scout last year.
"I am happy to speak Russian language, I enjoy Russian hospitality at the 2018 FIFA World Cup and I sincerely hope that this message will not be understood as anything else but an expression of gratitude to our friends in Ukraine for their support - not in the match against Russia, but during the entire World Cup", Vida said. Earlier, FIFA fined but did not suspend two Swiss players for celebrating goals by making a gesture in the sign of a double-headed eagle - a symbol of Albania.