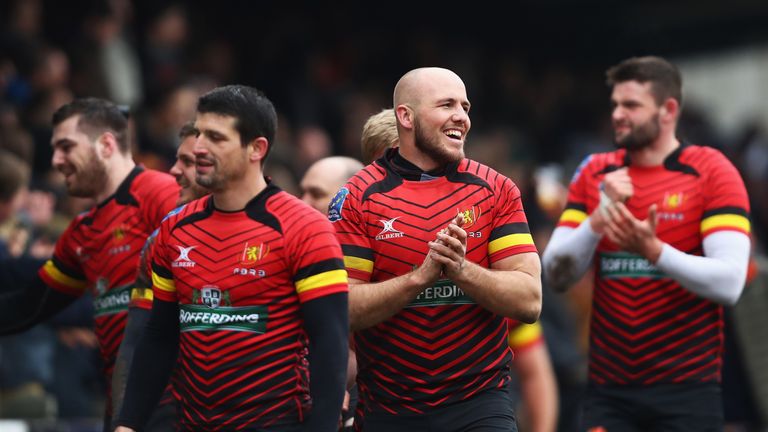 The controversy arises because the referee - Vlad Iordachescu - is Romanian, and his nation directly benefitted from Spain losing in Brussels.
They were livid at referee Vlad Iordachescu - who is Romanian - after their shock loss to the Belgians.
World Rugby said that while it "does not appoint match officials for the Rugby Europe Championship" it is in contact with them "to understand the context of events relating to the Belgium v Spain match".
World Rugby will investigate the circumstances around Belgium's World Cup qualifying win over Spain.
Their statement read: "Further to the game between Belgium and Spain, played in Brussels today, Rugby Europe would like to precise that Rugby Europe has always operated the highest standards of match official selection whatever the competitions".
Spain travelled to Belgium needing a victory - a fixture they won 30-0 last year - to finish above Romania and automatically qualify, joining Pool A at next year's tournament alongside Ireland, Scotland and hosts Japan. The loss saw Romania qualify instead as they finished one log point ahead of Spain.
More news: Why Mohamed Salah can't be compared to Lionel Messi: Watford boss explains
"The persecution of the referee is very unfortunate and, as captain of the team, I want to apologise and say that doesn't correspond to the values of the sport, nor the identity of this team".
"The difference between penalties against us and for us was huge".
The federation said Patrick Roben, president of Rugby Europe's referees' commission, denied the request because the match appointments were done weeks in advance.
Spain coach Spain Santiago Santos criticised Iordachescu in his post-match news conference, accusing him of not allowing his team to play.
Spain put themselves back in the game with a try from Charly Malie in the 70th minute and a penalty 10 minutes from time but with a late penalty Belgium held on to spark anger among the Spaniards who turned their ire on the referee.
Failure to beat Samoa would leave Santos' men to be involved in a four-team repechage in November in a last attempt for qualification.